In late August 2022, Nancy and I were able to complete a trip to tour the Ice Fields Parkway that runs between Banff and Jasper National Parks in Alberta, Canada. We selected to drive from Montrose so we could revisit sites along the way in Idaho and Montana and also see a bit more of Alberta on our way to Banff where we based during our stay. Each day we would journey north from Banff to a different area of the Parkway to hike and photograph and take in the splendor of the Canadian Rockies. Turquoise Lakes, soaring peaks, icefields and glaciers and miles of spruce forests comprise this region. 
Click on any individual photo to enlarge as 
Below - Mt. Rundle, 9,675 ft. high has seven numbered peaks as it rises to the highest point. It dominates the skyline south of Banff. Charlie's mother's maiden name was Rundle and her brother is Uncle Robert (Bob). The plaque above from the front of the UCC-Methodist Church in Banff is dedicated to Robert Rundle (no relation, but a coincidence of same names) who was an early pioneer pastor in the region. 
Above, left -- Cave and Basin, the first National Historic Site in Alberta is an underground cave containing limestone hot springs that early tribes used for centuries. Vegetation around the springs stays green year-round.
Peyto Lake and Surrounding Mountains
The following five images are of Peyto Lake and the nearby area. Image two shows the glacier that feeds the lake. Peyto Lake is the second most popular area visited on the Ice Field Parkway after the Lake Louse area. The Park does an excellent job of managing crowds and providing outstanding viewing areas from which to enjoy the expansive views.
Bow Lake, Nancy near Bow Lake, Bow Lake Panorama Image
Panorama of Saskatchewan River Crossing where the Saskatchewan, Mistaya, and Howse Rivers converge and flow eastward to Lake Winnipeg as the Saskatchewan River. Indigenous First Peoples, French and English fur trappers and early settlers used Howse Pass and these rivers to traverse the region and move west.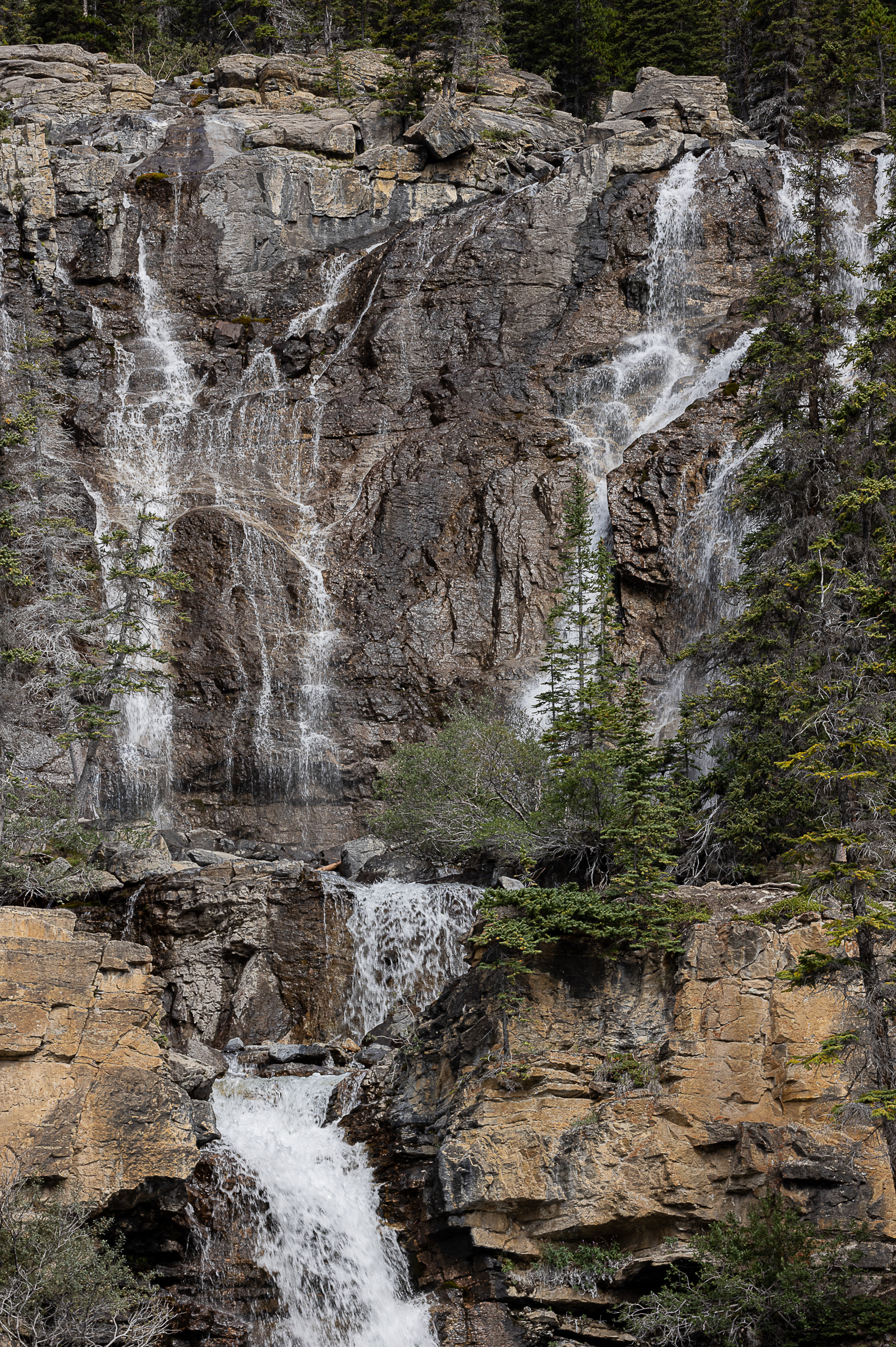 (Top Left) Typical Ice Field. (Top Right) Weeping Wall
(Above) Bridle Veil Falls
Moraine Lake and Lake Louise
The Images below are of Lake Louise and Moraine Lake. Due to their outstanding beauty and close proximity to Banff (and the 1.3 million folks living in Calgary just 65 miles from Banff) they are two of the most well-known and visited sites in Canada. And there is a world class hotel located at Lake Louise that adds to it's popularity. They are Maroon Bells/Grand Canyon popular. As a result  Banff National Park has a bus shuttle and reservation system in place. The best time of day to photograph either lake is in the early daylight hours as the sun paints the mountains to the west. Of course, this makes reservation spots in the morning nearly impossible to obtain. They close the small parking lot at Moraine Lake when it is full and only buses can then travel the 14 km up to the lake from the Ice Field Parkway. 
In our week in Canada, we never did obtain a bus or parking reservation before noon. Although we did discover Chocolate Hazelnut Croissants at Haggerman's Bakery and Deli at Lake Louse Village which is located on the Parkway, which would blunt our disappointment each day. 
However, we discovered that there were parking spots available at both lakes late in the day, so on the sunniest day possible we were able to visit both spectacular locations. They were worth the effort, although Moraine Lake, in my opinion, is by far the more photogenic location.
(Above Four Images) Moraine Lake
Lake Louise shoreline and hotel. Spectacular spot, with huge crowds even late in the day. Most arrive via tour buses. Still, a fun stop on our Canadian journey.
Stay cool as this moose and thanks for viewing this gallery.